Cancun Tulum Excursions: Xel-Ha water park All-Inclusive Admission + Transportation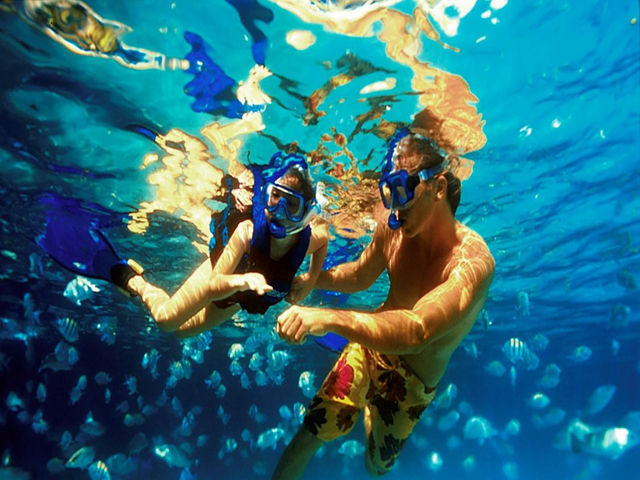 What To Expect
Overview
An all-inclusive natural park in the Riviera Maya just minutes away from Tulum.

Near Tulum you'll find Xel-Ha, a natural water park where you can do unlimited snorkeling in an inlet that flows into the Caribbean Sea. You can ride a bike through the jungle paths, jump into the water from the Stone of Courage, dive from a zip-line and feel the thrill of the highest of all Tulum, Riviera Maya and Cancun waterslides, The Scenic Lighthouse; these and many other activities in Tulum can be experienced in the natural wonder of the Riviera Maya. Xel-Ha is an all-inclusive park, so the buffet and open bar are part of the experience.
For all ages. Under 4 years old have free admission. From 5 to 11 get nearly half off the adult ticket price.
Activities You May Also Like
Packages
Admission + Transportation from Playa del Carmen
Please provide hotel name and address when placing order
Adult

$142.09

$144.99

Child

$106.57

$108.74
Admission + Transportation from Cancun
Please provide hotel name and address when placing order
Adult

$142.09

$144.99

Child

$106.57

$108.74
Admission + Transportation from Riviera Maya
Please provide hotel name and address when placing order
Adult

$142.09

$144.99

Child

$106.57

$108.74
Things to Know
Included/Exclude
Xel-Ha water park All-Inclusive Admission
Unlimited snorkeling in the inlet with the use of snorkeling gear and a free snorkel. River floating on inner tubes.
Continental breakfast from 9:30 a.m. to 11:30 a.m.
Snacks and lunch buffets from 11:30 a.m. to 5:30 p.m.
Domestic open bar and unlimited non-alcoholic beverages.
Rest areas with lounge chairs and hammocks. Restrooms, changing rooms, showers, lockers and a towel.
Other services (WiFi, ATMs and shops).
Free parking.
World of Adventure, Hikes, Cenotes and coves and other scenic spots
Transportation from Cancun, Playa del Carmen and Riviera Maya
Insurance and other personal expenses are not listed in Fee Included.
Add round-trip transportation service should be paid service fee to the English tour guide, 2-3 USD is recommended
Meet Up/Redemption Information
Location
Time
Address
Hotel lobby or nearby pick-up point

Please note the hotel name and full address when placing the order. If the hotel is not available, we will arrange the nearest pick-up point. You need to arrive at the pick-up point by yourself
Booking and Confirmation Process
Due to high demand, inventory is mostly synchronous but sometimes not. Our consultant will check real time availability onsite and confirm seats.
You will receive your booking information instantly via email. In the event that you do not receive an email from us, please check your spam folder or notify us via email.
How To Use
Terms & Conditions
What is the cancellation policy?
Non-refundable reservations cannot be cancelled or modified once submitted.
What if you miss the appointed time or departure date?
Once the booking is confirmed, an absence or failure to show up on the scheduled date or time is a no-show. No refunds or reschedules will be issued for no-shows and late arrivals
Other important information
Children's rate for ages 5-11, MUST be accompanied by adult. Children aged 0-4 are free of charge but must indicate when registering. In both cases an ID is mandatory.
Must present an ID at the Park's ticket booth.
Children and over 4.5 ft tall but under 12 years of age must show an ID to verify their age as well.
Wear a swimsuit, water shoes and comfortable clothing. Additionally, bring an extra change of clothes and a towel.
Only use of sunblock and sunscreen containing titanium oxide and zinc oxide are allowed in the park.
Remember to bring cash or a credit card to purchase souvenirs, get the photos of your visit, or enjoy an Optional Activity.
Reviews Scores